BY BRENDA BOUW
June 13, 2019
Are low-carbon aluminum, cement and steel pipe dreams or the blueprint for a brighter future?
The production of steel, cement and aluminum collectively accounts for about 15% of global greenhouse gas emissions and demand for the industrial materials is on the rise. A handful of pilots are underway to develop zero or nearly-zero carbon versions of these carbon-heavy materials, but the pace of change is hampered by a dearth of investment.
Pilot examples include Sweden's Hybrit, which aims to replace coking coal with hydrogen and electricity; Quebec's Elysis, described as the world's first carbon-free aluminum smelting process; and Carbicrete, also from Quebec, which is developing cement-free, carbon-negative concrete.
While still years away from commercialization, projects like these are offering hope that carbon-intensive industries are taking action to reduce their environmental footprint, despite the high price tags involved.
There was little progress on such initiatives until a few years ago, says Chris Bataille, an energy policy consultant and researcher at the Institute for Sustainable Development and International Relations (IDDRI), a non-profit research centre headquartered in Paris. "A lot of the technology has been floating around for years, but little attention was paid to it, until now," says Bataille, who is also a lead author for the next Intergovernmental Panel on Climate Change report.
The shift came after the 2015 Paris Agreement's long-term goal to keep a global temperature rise well below 2 C above pre-industrial levels, and to pursue efforts to limit warming to less than 1.5 C.
Bataille believes it's critical for industries to develop zero or nearly-zero carbon projects today so that they become a standard by the early 2030s, given their 20- to 30-year lifespans. "We have to do that to stay on track of somewhere between 1.5 and 2 degrees Celsius," says Bataille. "The whole economy has to go to zero somewhere between 2055 and 2075 for those targets to be achievable."
Here is a look at some innovative pilots across the aluminum, steel and cement industries:
Aluminum
According to the International Energy Agency (IEA), the energy intensity of aluminum production declined by 1.7% in 2016, compared to a 1.9% annual reduction from 2010 to 2016. The IEA is calling for an annual decline of 1.2% to reach Sustainable Development Scenario (SDS) objectives by 2030. It also says aluminum production from recycled new and old scrap needs to increase "considerably" to 46% globally.
A pilot in Quebec promises to be part of the industry's intensity-reduction solution. In May 2018, Alcoa and Rio Tinto unveiled what they describe as "the world's first carbon-free aluminum smelting process," through a partnership called Elysis, which refers to the electrolysis of alumina, a process at the centre of aluminum smelting.
Apple, which helped to facilitate the collaboration between the two aluminum giants, is also investing in Elysis, based on its own efforts to decarbonize its operations and supply chain. Alcoa, Rio Tinto, Apple and the federal and Quebec provincial governments are providing a combined investment of $188 million.
The partnership "signals the most significant innovation in the aluminum industry in more than a century," the companies state, through an aluminum-making process that produces oxygen and eliminates all direct greenhouse gas emissions from the traditional smelting process.
Alcoa, Rio Tinto and Apple are developing the "world's first carbon-free aluminum smelting process," which, if fully implemented, could eliminate 6.5 million tonnes of GHGs.
The technology, which is expected to be commercialized by 2024, could eliminate the equivalent of 6.5 million tonnes of greenhouse gas emissions if fully implemented at existing aluminum smelters in Canada – roughly equal to taking nearly 1.8 million light-duty vehicles off the road, the companies say.
Elysis, which will be headquartered in Montreal with a research facility in Quebec's Saguenay-Lac-Saint Jean region, will develop and license the technology so it can be used to retrofit existing smelters or build new facilities. The claim is that the technology will increase productivity by creating more aluminum in the same-size smelting cell as the traditional process.
Executives says the technology is expected to also reduce operating costs by about 15%.
"It hits the mark on the environment, it hits the mark on operating costs and on volume and productivity and it will allow us to license technology to either replace existing operations or build new ones," says Elysis CEO Vincent Christ. Rather than costing more, Christ says the carbon-free method for making aluminum will actually be cheaper. "From the current work it is realistic to assume that the operational cost will be 15% lower compared to modern Hall-Heroult cell using carbon anodes," he says. "The work we are doing, out of all of this, is to make this an attractive business case for the aluminum industry."
Meanwhile, Russian aluminum giant Rusal is targeting 2021 to roll out its own line of carbon-free aluminum, so the race is on.
Public policies will play an important role to incentivize the demand for low carbon products and solutions. Whereas policies are currently focusing on the supply-side (reduction of emissions in production), major opportunities (in terms of emissions reductions) lie on the demand-side. Demand-pull policies (from public procurement to building standards and norms) should therefore be the focus of attention and cooperation with the construction value chain.
Cement
The carbon dioxide intensity of cement showed little change in recent years, according to the IEA, but still needs to decline by 0.3% annually through to 2030, as production is expected to increase.
According to a report from the Pembina Institute, the cement industry is "one of the most carbon-intensive industrial processes" given that half of its emissions "are directly linked to the chemical reaction at the centre of the process, and because the primary fuel used in the process is coal."
There are efforts underway to reduce the industry's emissions by using fuels other than coal in the production process.
LafargeHolcim, the world's largest cement company, for instance, is now using waste materials like used tires to replace more than 90% of coal fuel in some of its plants, according to company spokesperson Eike Christian Meuter.
A cutting-edge example from Canada is Carbicrete, a Montreal-based company with what it describes as a "cement-free, carbon-negative concrete solution." Carbicrete's technology replaces cement in the concrete mix with steel slag, a byproduct of the steelmaking process that is often placed into landfills.
The company says the process is carbon-negative because it avoids the emissions that come with cement production and uses carbon dioxide instead of heat and steam to cure its concrete. It's the combination of avoidance and sequestration that lead to carbon-negativity, it says.
Carbicrete claims its construction blocks are "stronger, less expensive and [help to] reduce manufacturers' carbon footprint." It says each block it produces helps to avoid 2.5 kg of CO2 emissions as compared to traditional concrete, which adds 1.5 kg of CO2 to the atmosphere.
"We are solving three problems; we are replacing cement, we are getting rid of steel slag, which is an industrial waste, and we are permanently sequestering carbon dioxide in concrete," says Chris Stern, Carbicrete's co-founder and CEO.
Because the process requires carbon dioxide, it has to be made in the factory. Stern says the pre-cast market is massive, with its products accounting for about a third of global demand for cement.
Last fall, Carbicrete received $2.1 million from Sustainable Development Technology Canada to help fund its pilot project. It will go towards building a limited production facility at an existing concrete plant and ratcheting up production from pilot to commercial scale over the course of a 32-month period. Carbicrete said it has so far assembled a consortium of project partners that includes a concrete maker, an industrial gas company and steel slag handler.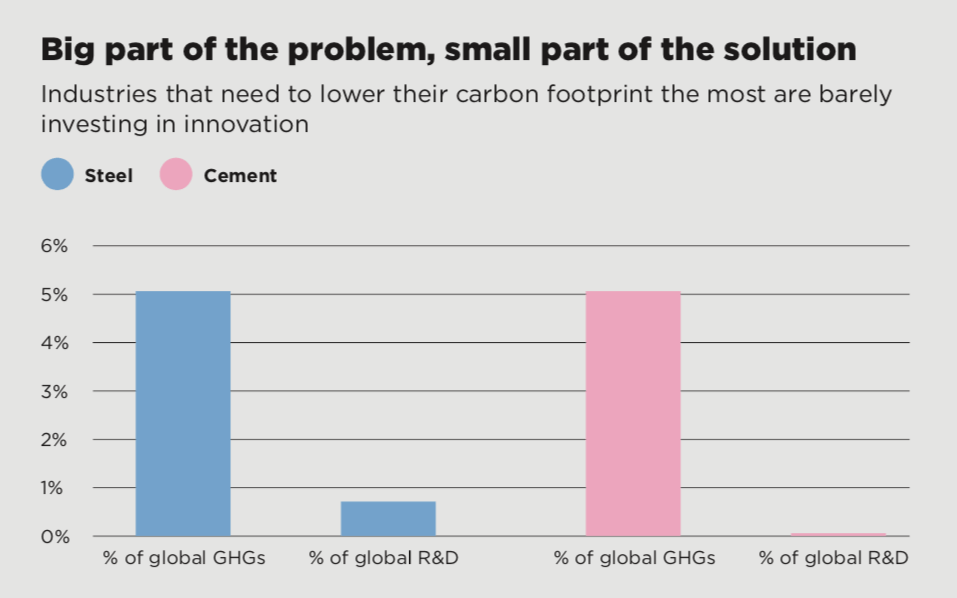 The steel and cement sectors are responsible for over 10% of global greenhouse gas emissions, while accounting for less than 1% of global research and development investments.
Steel
The energy intensity of crude steel fell by 1% in 2016, the IEA says, compared to an average 0.4% annual decline from 2010 to 2016. The IEA says the energy intensity of crude steel needs to decline by 1.2% annually to reach the SDS target by 2030.
The decrease is "especially important" given that global steel production continues to grow, it says.
One green project getting a lot of attention is Hybrit (Hydrogen Breakthrough Ironmaking Technology), a partnership among Swedish firms SSAB, LKAB and Vattenfall described as "the world's first fossil-free steelmaking technology, with virtually no carbon footprint." Hybrit aims to replace the coke that is traditionally used in steelmaking with hydrogen produced from renewable electricity. The production process will emit water instead of carbon dioxide, it said. "This can be a reality when the use of coal and coke in steel production is replaced by hydrogen produced using fossil-free energy sources," the company states.
A World Steel Association article says Hybrit's production costs will be around 20% to 30% more than the traditional steelmaking processes, but "that gap is expected to shrink over time, with the potential for increasing costs for carbon dioxide emissions through the European Union Emissions Trading System, and an expected decline in the cost of renewable energy."
Construction of the pilot plant started in 2018, with a goal to have a solution for fossil-free steel by 2035. Hybrit claims that, if successful, it can reduce Sweden's carbon dioxide emissions by 10% and Finland's by 7%. The project aligns with Sweden's goal to be the first fossil-free country by 2045.
The long road to decarbonization
While projects like these hold promise to help reduce industrial emissions in the steel, cement and aluminum sectors, Bataille says more has to be done, now: "I think a lot of really exciting stuff is happening, but it's not happening fast enough." Emissions have to come down "really fast," he says, which means all new industrial facilities have to be zero-emission to stay under the "danger line" in terms of global warming.
One challenge will be taking some of these pilots and turning them into larger-scale projects that can reduce emissions in a more meaningful way. "That takes a really aggressive effort," Bataille says.
There may be no better bang for the decarbonization buck than investing in cost-effective new carbon-free processes for making cement and steel. The two industries represent 10% of the greenhouse gases (GHG) emissions problem, yet account for less the 1% of the global research and development (R&D) spend. "This is because there are huge concentrated costs and no direct benefits for steel and cement in decarbonization. Most of the benefits are societal," says Bataille.
Cost is a significant hurdle, confirms Wendy Shen-Juarez, clean revenue and research manager at Corporate Knights. She says low-or-no-carbon steel and cement pilots are promising but are so far too expensive for mainstream use compared to traditional steel and cement. Meanwhile, low-carbon or recycled aluminum products are more viable because new or virgin aluminum from bauxite is energy intensive.
In many cases, change will begin with smaller pilots proving out the new technologies, Shen-Juarez says. "Smaller, more nimble companies are trying these new technologies. Then, once you have enough of those, bigger companies will take note … and implement something on a larger scale."
Governments will also need to move the needle through policy changes, including R&D support, green procurement and content regulations that require use of zero GHG materials, says Bataille. Private industry also needs to be on board. Carbon taxes and other policy measures are putting on some pressure, but industry needs to develop and scale up projects that will reduce its emissions sooner rather than later.
Said Bataille: "Once someone proves something works, it becomes the new standard – at least, that's the goal."