By Ewa Krukowska7 July 2020, 10:30 GMT-3 Updated on
Europe is pinning its green hopes on hydrogen in a plan that sees hundreds of billions euros in investment flowing into the clean technology and fueling a climate-friendly economic recovery.
The goal is to increase sixfold the capacity to produce renewable hydrogen by 2024, driving down the costs of the fuel. The market for hydrogen has the potential to create thousands of jobs and could all but eliminate emissions from industry and transport, according to a roadmap adopted by the European Commission on Wednesday.
"What you need for hydrogen to be a successful energy source and storage facility in the future: you need the production to be within the price range, you need transport and storage facilities and you need the market," said Frans Timmermans, executive vice president of the European Union's executive arm. "With our strategy we want to stimulate all three."
The Commission's president, Ursula Von Der Leyen, wants the EU to build its economic rescue plan around the Green Deal strategy that aims for a stricter 2030 emission-reduction target and eliminating net greenhouse gas discharges by 2050. European heads of government are due to hold a second round of talks on a jointly-financed recovery package on July 17-18 in Brussels.
Going Green
The proposed 750-billion-euro ($850 billion) rescue plan has green strings attached: the Commission proposed making funds available only for those projects that are in sync with the EU's climate-neutrality objective. By diverting investment to clean technologies such as hydrogen, this conditionality could ease the reservations of more frugal nations over the recovery package, helping EU leaders iron out a deal this month.
Big Oil's Long Bet on Hydrogen Offers a Climate Lifeline
Currently, hydrogen accounts for less than 1% of Europe's energy consumption and is mainly used as feedstock in the chemical sector. The viability of the clean technology is improving, as the cost of renewable energy keeps falling, the price on carbon is nearing record highs and the sense of climate urgency is increasing.
Scaling up the production of hydrogen would not only help big energy users — such as aviation, shipping or trucks — slash their pollution, but could also offer a solution to store energy generated from intermittent renewable energy sources, like wind or solar.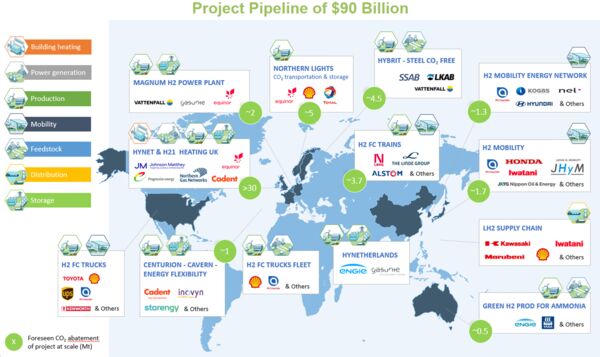 Hydrogen is a colorless gas, but the industry uses "color" as a way to distinguish the types of technologies used to produce it. For the EU, green hydrogen is the priority. It's created using renewable energy via electrolysis, the process of sending an electric current through water to split hydrogen atoms from oxygen.
Blue hydrogen, made from natural gas with the carbon emissions buried under ground, is a step ahead in terms of development and will have a transitional role in the strategy.
EU HYDROGEN STRATEGY
Here are some steps the EU is taking on hydrogen:
Launch of the Clean Hydrogen Alliance bringing together companies, national governments and industry experts to help scale up domestic production of green hydrogen

Support for installation of 6 gigawatt of renewable hydrogen electrolysers by 2024 compared with the current 1 gigawatt

The goal for 2030 is 40 gigawatt of renewable hydrogen electrolysers and the production of up to ten million tonnes of green hydrogen in the EU.

Another 40 gigawatts should be deployed in the neighboring countries; the green hydrogen produced there would be then imported into the EU

From 2030 to 2050, renewable hydrogen technologies should reach maturity and be deployed at large scale

Increased green hydrogen volumes will be key to lower green hydrogen prices from the current 2.5-5.5 euros per kilogram

Development of a pilot scheme for a Carbon Contracts for Difference program, that would pay the spread between a pre-set and actual price of permits in the EU Emissions Trading System to encourage investment

Plan to create a classification of different types of hydrogen and a certification system to support the trade of green hydrogen

Commitment to stimulate development of hydrogen infrastructure, including at cross-border levels
EU countries, including Germany, Netherlands and Portugal are already racing to scale up the technology, looking to make alliances and strike deals with partners outside the European borders. The region is well positioned for the clean technology thanks to its natural gas infrastructure, which can be used to transport hydrogen.
Time is of essence for Europe to avoid losing out to countries like China, Japan, South Korea or the U.S., which are already spending more public money on the clean technology. The amount of funds the EU can mobilize to stimulate the development of the hydrogen industry depends on the final shape of the bloc's next seven-year budget and the recovery package, which highlights the clean technology as an investment priority.
Renewable hydrogen in Europe could require between 180 billion euros and 470 billion euros in investment by 2050, according to the EU's executive. Given the interest from private investors, the commission is optimistic about financing.
"Because this is seen by the private sector as a huge opportunity we have to be careful that we don't put public money in places where private money would almost spontaneously go," Timmermans said.
— With assistance by Vanessa Dezem